Leave a comment
April 20, 2017 by squish
Celtics President of Basketball Operations Danny Ainge and Head Coach Brad Stevens find themselves down in a first round series. (Courtesy of Garrett Ellwood/NBAE via Getty Images)
Written by Alex Salucco
It seems silly to ask, but could Brad Stevens really be coaching for his job in these playoffs? The Celtics have improved every year under his tutelage and he has his entire career ahead of him. Whether Stevens' job is actually in trouble remains to be seen but one thing is becoming abundantly clear; either Danny Ainge or Stevens will be gone soon.
Stevens is getting a lot of flake for allowing his first place-team to be down 2-0 in the first round to the eight seed Chicago Bulls and playoff struggles are nothing new to the young coach.
After getting swept by Cleveland in the first round two years ago, the Celtics followed that up by bowing out of the first round in six games against Atlanta the following season.
Stevens' record in the playoffs currently sits at 2-10 and some people are left scratching their heads while others are begging for a little more talent; insert Danny Ainge.
Ainge was dubbed a thief after making the trade that sent Paul Pierce, Kevin Garnett and others to the Brooklyn Nets in exchange for first round picks in 2014, 2016 and 2018 as well as the rights to swap first rounders in 2017.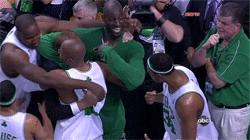 Two of the four chips have already been cashed in for Marcus Smart and Jaylen Brown. I like both players a lot and they were arguably the right picks at the time but couldn't he have made a deal? I mean, after all, he is 'Trader Danny.'
And if Ainge really is this wizard of the trade then why couldn't he pull of a deal that landed Boston Jimmy Butler or Paul George? Because he didn't want to get rid of both Brooklyn picks? Please Danny, all you're doing is passing up known commodities for a CHANCE to draft a player who MIGHT be good.
I understand that nobody in the league wants to get swindled by Ainge, but he isn't dumb, which is why he knows that if Isaiah Thomas is your best player then you're team stands no chance of going anywhere.
Stevens should be in no danger of losing his job when the man in charge of filling his roster has been dangling these Brooklyn picks in his and every Celtics fan's face for years.
Even if Boston gets the first pick in the draft, Danny doesn't have a stellar draft history. Sure, he's drafted guys like Marcus Smart, Jaylen Brown and Avery Bradley in the first round in the past, but he's also grabbed Fab Melo (RIP), Troy Bell and J.R. Giddens.
Danny seems to be putting all of his money on red with these last two Brooklyn picks; let's hope for the Celtics' sake, the fans and his own that he hits big.