Leave a comment
April 21, 2017 by hochmancarter
Bruce Cassidy's Boston Bruins look to force a sixth game when they play the Ottawa Senators tonight. (Courtesy of Michael Dwyer/AP)
Written by Carter Hochman
The current state of the Bruins has a lot of Boston fans biting their fingernails in anxiousness. Being down in the series 1-3 against the Senators, a lot of questions are being asked.
What happened to the powerful offense that the Bruins displayed towards the end of the regular season? Will Bruce Cassidy be hired as the new head coach? Are the Bruins relying too much on Rask?
An answer in part to the Bruins playoff struggles is their banged up blue line, and reliance on rookie talent. With Torey Krug, Brandon Carlo, (one game without Colin Miller) and now Adam McQuaid out, the Bruins have a large portion of their defense being forced to build chemistry very quickly against a multi-dimensional Ottawa offense. And while Tuukka Rask has been incredibly solid in net for the B's, it just hasn't been enough.
When the Bruins put up two or even three-goal leads, the young blue line that now includes Boston University alumni Charlie McAvoy and Matt Grzelcyc, along with Providence Bruin call-up Tommy Cross just hasn't been able to solve Ottawa's offensive tactics.
Now we turn to interim head coach Bruce Cassidy. Cassidy has been incredible since taking over behind the bench after Claude Julien's termination by digging the Bruins out of a hole and bringing them back to their first Stanley Cup playoff appearance in three years. However, in his first postseason coaching run, he hasn't been so hot.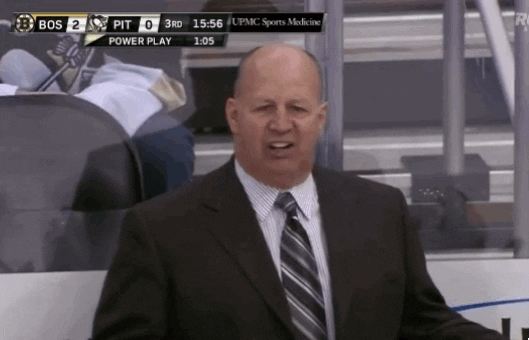 His team has a -2 goal differential thus far and find themselves down in a series against an Ottawa team that they have the ability to beat. The question of whether or not the Bruins front office decides to hire Cassidy as the new head coach is a tricky one, as his achievement in getting Boston back to the playoffs could merely be short-term success.
The Bruins enter game five tonight against the Senators at 7:30pm at the Canadian Tire Centre in Ottawa; a building that is not easy to play in come playoff time, especially when you are facing elimination. It will be interesting to see how the Bruins attempt to solve Ottawa's neutral zone trap, and fix their defensive woes.