Leave a comment
April 26, 2017 by squish
Eric Thames signed three-year contract with the Milwaukee Brewers in the offseason worth more than $15 million guaranteed. (Courtesy of si.com)
Written by Alex Salucco
Growing up in the heart of the baseball steroid era has made me woke to the fact that a lot of guys are juicing…maybe too woke. I'm so woke that I've adopted the way of thinking that if you're excelling, then you must be doing something.
Jumping to conclusions is never good and I never judge a book by its cover…but Eric Thames' start to the season has me WOKE.
After struggling in two years in the majors, Thames went on a hiatus that involved three years in the Korean Baseball Organization. He has not played in the big leagues since 2012.
In 181 MLB games for the Blue Jays and Mariners he hit 21 homers, racked up 158 hits and struck out 175 times. He was on a struggle bus…a struggle prom bus that had contained the same dignity of dumb high schoolers on it's disgusting floor.
After a stint in the big leagues, Thames bounced around farm systems and decided to take a shot in the KBO with the NC Dinos. He must have been seeing the ball a lot better because in three seasons he clubbed 124 dingers and batted over .350…wink wink.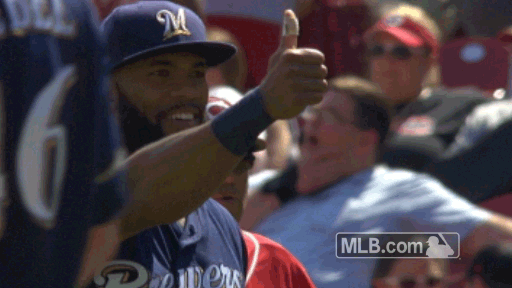 Now Thames has always been in great shape, my boy Trento would even call him a "brick shit house," but he's come back to the MLB looking like Dom Mazzetti's ideal body type.
Through 20 games he's gone deep 11 times while batting a smooth .371 – it's worth noting that he is still striking out at the same rate; 18 in 20 games. I know that this is a small sample size but let's go a little deeper into the numbers.
When seeing his unreal start to the season I wanted to look at two stats in particular: fly ball percentage and isolated power.
Fly ball percentage is simple. It shows you the percentage of balls put in play that are fly balls. This is important when talking about hitters because a fly ball means a possible home run. On average, 10% of all fly balls leave the ballpark, so if a batter is only getting the ball in the air at a 10-20% clip, then he is not giving himself much of a chance for power numbers.
With Thames, his fly ball percentage has stayed relatively the same this season compared to his numbers in the majors in 2011 and 2012; just about 38%. However, his home run fly ball percentage has gone from just under 12% to a whopping 52.6%.
That's alarming and I don't care if seven of his 20 long balls have come against the Reds god-awful pitching staff; sorry Carrabis. When your FB% stays the same and your HRFB% increased by 40% then I'm allowed to bitch about it.
Isolated power is a little more complex so I won't try to explain it, but my idea is to think of it as slugging percentage that ignore singles.
Data from FanGraphs shows average ISO of non-pitchers from 1988-2012. Notice the uptick when getting into the steroid era.
1988-1993: .130
1994-1999: .159
2000-2004: .165
2005-2012: .156
To further strengthen the argument, out of 310 40-homer seasons in MLB history, 83 of them came between 1996-2001 making up 27% of the total. Thanks for the info, BaseballReference.
So Thames' ISO this season so far, and yes, I know it is a very small sample size when talking about the stat, is .558.
To put that into perspective I will need the help from FanGraphs once again.
| Rating | ISO |
| --- | --- |
| Excellent | 0.250 |
| Great | 0.200 |
| Above Average | 0.170 |
| Average | 0.140 |
| Below Average | 0.120 |
| Poor | 0.100 |
| Awful | 0.080 |
I will reiterate that 19 games is too minuscule a sample size to even base an argument on and he has all season to see it plummet. But, if it doesn't…hmm….hmm.
In years where players like Barry Bonds and Mark McGwire were allegedly, and I use that word lightly, taking performance enhancing drugs, their ISO was off-the-charts.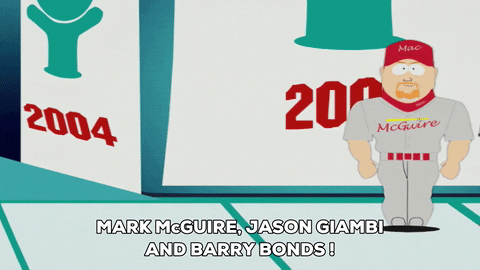 Through their years in the steroid era, both sluggers were consistently putting up an ISO over .330 with Bonds peaking just under .350 and McGwire reaching .361 when he was 35 years-old.
To Thames' credit, I do believe he has worked hard at getting back to the majors and I'm just some college kid writing a blog while his friends are out having fun. So if you don't take my word for it, I don't blame you. However, some people around the league are thinking the same way.
John Lackey of the Chicago Cubs let up a long ball to Thames last week. When asked about Thames' electric start he responded with this. "You watch film on recent stuff and try to figure out a way, you know, to get him out. But I mean, really even the homer hit the other way, I mean, you don't see that happen here very often. That's kinda one of those things that makes you scratch your head."
He added this in there at the end of the quote.
The homer the other way was a flat cutter over the middle of the plate soooo not much substance here. Still, others are talking about it as well.
Lackey's pitching coach, Chris Bosio, had his pitcher's back and pretty much said he thinks Thames is on something without actually saying it.
"Well, the bottom line is hitting the ball and we gotta figure out a way to get him out. All that other stuff, I'll let other people worry about. But he's doing stuff that I haven't seen done for a long time," Bosio said in a press conference.
"You start thinking about Ken Griffey Jr. and Manny Ramirez when he went to the Dodgers, Barry Bonds-ish. You're talking about some of the greatest players to ever play this game," Bosio continued. "So, yeah, it's probably a head-scratcher because nobody knows who this guy is. And [since] he was here before, his body has changed."
Now while I was writing this blog, Thames went deep again – something I joked about happening when I first sat down. So now do I not only hate this guy for (allegedly) cheating when countless guys are playing a clean game, I hate him for making me wait until his new stats get published so I can go back and fix them.
I'm not saying Thames is using PEDs. Screw it, yes I am.
To his credit, Thames has never tested positive for PEDs. But what does that mean? Jose Canseco, Barry Bonds, Sammy Sosa, Mark McGwire, Roger Clemons, Juan Gonzalez, Alex Rodriguez (admitted), Jason Giambi (admitted) and Gary Sheffield (also admitted) never tested positive for PEDs either.
I love the game of baseball more than most things in my life and to see that there are still athletes cheating their way into contracts. I don't want to drag his name through the dirt, and I don't think I am because this post won't get more than 50 views, but when I see something like this I immediately think of watching baseball as a kid and seeing guys go deep 60 plus times well into their thirties.
Let's up the ante; if Thames goes the rest of his career without testing positive for a banned substance then I will buy a customized Ohio State football jersey and wear it every time I watch college football. #GoBlue
Editors note: I finally learned how to spell Mark McGwire's name while writing this.