Leave a comment
May 4, 2017 by squish
Tempers have flared between the Boston Red Sox and Baltimore Orioles over the recent weeks. (Courtesy of AP Photo/Michael Dwyer)
Written by Alex Salucco
Let's face it; the Red Sox Yankees rivalry is dead. A-Rod isn't slapping balls out of Bronson Arroyo's glove, benches aren't clearing and Pedro isn't taking Don Zimmer by the head and throwing him against the ground. Those days are gone. Oh yeah, and the Yankees have sucked…not this year though.
For those of you who think that baseball is boring, you clearly haven't seen what's been happening with the Sox and Os over the past week and a half. It's pandemonium on a diamond, and I love it.
I wrote a blog about the beginning of the feud last week involving Manny Machado getting thrown at for a "dirty slide" that injured Dustin Pedroia. You can check that out here. If you remember, I finished the blog like this.
"This is clearly not over for the Sox because they didn't successfully hit Machado, but the same can be said for the Orioles. One of their guys was getting head-hunted and regardless of his reputation, that is a line you don't cross. I expect this to go back and forth all season long and we will undoubtedly get a taste of it next week when the birds fly north to Fenway."
I wasn't wrong; things have gotten hairier than I thought.
The dust settled momentarily until Dylan Bundy hit Mookie Betts on his lower-half — the place that a lot of people thought the Sox should've hit Machado instead of throwing behind him.
The plunk came in the fifth inning with the Orioles up only two runs and with Hanley Ramirez on-deck — a guy who has been as hot as me when I was a 13-year old playing Little League baseball illegally in Salem Mass. in 2007. (true fact)
You could argue that Bundy wouldn't hit someone in that situation, but you could argue that the best way to cover your tracks is to hit someone when you shouldn't, especially this early in the season.
It was on purpose and everyone knows it was. You hit Betts, the best player on the Sox who has historically murdered the Os and, even better, he threw an outside slider the pitch before to bring Betts closer to the plate. Oh yeah, it was on purpose, Bundy just doesn't have to sack to admit because he would get suspended — can't blame him.
Dylan Bundy's 2 hardest pitches of the night were the fastballs inside to Mookie Betts, one of which hit him. Nothi… twitter.com/i/web/status/8…—
Evan Drellich (@EvanDrellich) May 02, 2017
Fast forward to the game after: Machado hits a YABO off of Porcello…he Yossed it…we're talking about a straight Yimbo here.
While embracing all the boos spewed at him, Machado enjoyed a peaceful evening promenade around the bases.
I don't know who is tracking everyone's trots or why they're doing it, but I think it's awesome. I wish I had an intern clocking my times to and from the fridge to grab a carton of chocolate milk.
Chris Sale and the Sox clearly didn't take too kindly to the leisurely stroll. The first pitch Machado saw the next game was this gem.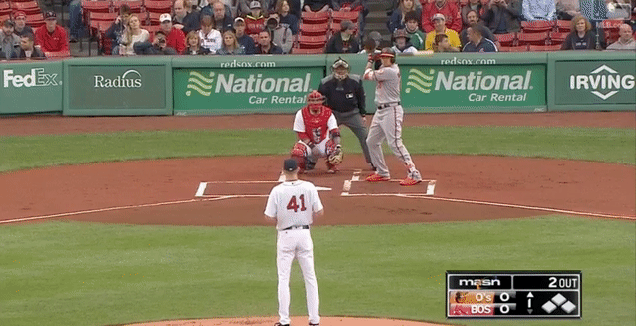 This was clearly intentional. Sale didn't even seem phased by it as he calmly took six steps to home plate to get the ball back. I don't have a problem with it; he showed up the opposing team and they didn't even hit him. The pitch sent a message; "cut the shit."
Buck Showalter, in a moment of overreaction, considered taking Machado out of the game.
Machado, after being thrown behind twice in the past week or so, was clearly ticked off after the game. I wonder if he realizes that his slide started this whole thing.
I don't know if Farrell is the one to blame here. I personally think that when someone gets hit that it's something that the players themselves decide to handle. Its a mix of plausible deniability and faith that his guys will do what's best for the team. Regardless, this "feud" is FAR from over.
More antics ensued last night as Xander Bogaerts took a hanging breaking ball off of the hip. Before the game the commissioner held a conference call with Farrell, Showalter, both GMs and MLB Chief Baseball Officer Joe Torre.
"One issue is the fact they've played each other so often," Torre told Ken Rosenthal about the conference call. "Once something happens, then it just seems to grow and fester and all that. Basically, in trying to keep score on who owes who what, we figured there was enough going on with both sides that we basically just had a phone call today to let them know we want to play baseball. We don't want to get anybody hurt."
We knew if when something happened, guys would get thrown out. And would you look at this, something happened…who would've thought?
It wasn't intentional at all. Gausman's ball didn't break and it unfortunately hit Bogaerts. The home plate ump didn't care — his instructions were to throw anybody out for throwing at or even behind a batter.
This still isn't over, not by a long shot. It doesn't matter if it was intentional or not, not when balls are being thrown at guys every game between these two teams. Something is going to happen tomorrow in the late innings…put it in pen…print out this blog…I don't care what you do just know that something will happen late because these teams don't play again until June. That is the best kind of retaliation; when you hit someone late and let the other team fester for a good month. Oh yeah, juicy stuff.