Leave a comment
May 18, 2017 by jessepell
Kyle Schwarber came back from injury in 2016 to have an incredible World Series against the Cleveland Indians. (Courtesy of Tommy Gilligan/USA TODAY Sports)
Written by Jesse Pelletier
This is the second article in a series investigating the future of baseball. In part I, I looked at the rise of the home run and how the trend projects to the near future; you can find that piece here. Continuing on in the series, let's look at some other offensive trends reshaping the modern game and one I'd like to see develop in the future.
The leadoff man
Rickey Henderson. Ichiro Suzuki. Tim Raines. The classic leadoff guy. For most of the modern era of baseball, the leadoff man was a guy who racked up hits and stole bases. He was a distraction on the base paths while the bigger bats were at the plate. He made the hit-and-run a viable threat and scored on sacrifice flies from the heart of the order.
He was the king of small ball.
The small, fast contact hitter doesn't really fit anywhere else in the lineup. The middle of the order is generally for the power guys who could send the speedsters around the bases. The end of the order doesn't see enough at-bats to take advantage of the higher batting average. Hence, speed demons owned the leadoff spots. While their power didn't scare pitchers, leadoff men were tricky.
The shift was impractical because leadoff guys weren't usually pull hitters. They could bunt for base hits with their speed, too, and you couldn't even bring the corner infielders in because some of them could still hit for decent enough power.
These crafty guys seem like the ideal leadoff men and if you have a guy like Rickey Henderson, he absolutely is. The issue in today's game is that there just aren't as many of those players anymore. We may never see another Henderson for a long time, but today we don't have anything even close.
So with no Hendersons among us, what type of hitter should lead off?
First off, speed alone is not enough to get a guy the leadoff spot. The 3-4-5 hitters need to drive in runs, and they can't do that if the first two batters aren't getting on base. Your speed is only useful if you're getting on base. Sorry speedsters, you'll need more credentials than just wheels.
The heart of the order is set up to drive in runs. Driving in runs implies the top of the order is getting on base. What managers are realizing is that the top of the order just needs to get on base! Base hits, walks or hit by pitches; whatever it takes.
I feel like managers have always known this, but today's managers are taking this more literally than anyone has dared before. We live in an age where we can see George Springer, Michael Conforto, Kyle Schwarber, Carlos Santana and Brian Dozier lead off games. Some of these guys can steal bases, sure, but that certainly isn't their job. It's getting on base, and I'm glad we're finally embracing this.
Some of these guys are slumping a bit in the on-base department, but my point holds that these certainly aren't your leadoff guys from the '80s. Heck, Dozier hit 42 dingers last year.
(Courtesy of Brad Penner/USA TODAY Sports)
If you do have a speedy guy in the leadoff spot, don't make him bunt in the first inning. The leadoff guy needs to get on base, but he also should see a lot of pitches so the rest of his teammates can see what the pitcher's got. When he gets up for the third or fourth time that game against the same pitcher, the bunt is fair game.
If you have a speedy guy who doesn't have the average to hit first, do us all a favor and bat him ninth. He's still only a few spots away from the heart of the order! If he gets on, he can use his speed to get into scoring position when the power comes up to bat. If I bat third and the number nine hitter is on base, I'd much rather it be a speed guy than a pitcher. Even if it means batting the pitcher eighth, which some clubs already do.
Prediction: A 2017 leadoff hitter will break Henderson's all-time record of 81 career leadoff home runs. Mookie Betts already has ten, but my money would be on Schwarber. Honestly, why not both?
The sacrifice bunt
Keith Law did some interesting analysis as part of a proposal to kill the sacrifice bunt. According to Law's math, getting the leadoff guy on first base leads to a 50% chance to score that inning. If the next batter lays down a sacrifice bunt, the runner advances to second base and the batter is out at first. When a team has a runner on second with one out, according to Law, a team's chance to score drops to 42%.
Wait a second… so, all these years we've been sacrifice bunting and it has been hurting us all along? How is that possible?
Let me start by saying that I have absolutely no clue what sort of math Keith Law did to get those numbers. The numbers must depend on who is batting. If it's the number seven hitter who reaches first to start the inning, I imagine the team's odds of scoring are less than 50%. If the leadoff guy reaches first to start an inning, the odds are probably greater than 50%.
Secondly, a guy on second with one out is much better than a guy on first with one out. So if your pitcher is batting with a runner on first and no outs, it's probably still ideal to sacrifice bunt. Sacrifice bunt numbers do seem to be on the decline across the league. The few bunts I've seen in sacrifice scenarios have come from speedy guys who have the best chance to actually make it to first base. Law's math also doesn't account for the bunt ability, or speed of the batter, or the defensive shift alignment… you see my point.
I don't know what voodoo math Law did to debunk the sacrifice bunt, but it probably would have been on the way out anyways with the shift away from small ball. We started shifting away from small ball even before guys fell in love with elevating the baseball, and now small ball may be gone for quite some time. Hopefully the traditional sacrifice bunt will be gone forever.
The Hitting Pitcher
'But Jesse, the sacrifice bunt will be alive and well as long as pitchers have to bat!' Maybe for the next ten years, sure, but how about we just teach pitchers how to hit?!
Pitchers are good athletes. Plenty of pitchers are converted shortstops or outfielders who hit all the time in the minors and in college. So why are pitchers such bad hitters?
I don't have an answer. That's what's frustrating. I know they only hit every fifth day in the National League and even less often in the American League, but don't they take batting practice? They should be taking batting practice every single day with the position players!
What's even more frustrating is that pitchers often know how bad they are at the plate, and they don't even hide it. Zack Godley knocked a single back up the middle the other night and laughed his way to first base. Maybe he was just happy to record his first career hit, but really? We have some anomalies like Madison Bumgarner and Noah Syndergaard, but they are few and far between.
In the event that pitchers develop into decent hitters, it will make a big influence on rotations. Pitchers will be going deeper into games because they won't need pinch hitters in opportunities to score runs. Teams might pass on one pitcher for a slightly worse pitcher who is better at the dish. As much as I want pitchers to be good hitters, it's hard to think it will ever happen if it hasn't happened yet. Rather than a future full of Bumgarners, we may be left with nothing but Bartolo Colons.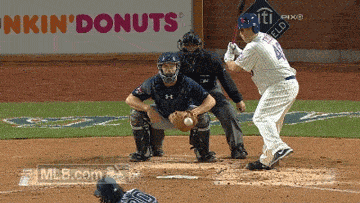 If pitchers will always be bad hitters, so be it. If they keep the sacrifice bunt alive, so be it. But pitchers…when you do drop the bunt, please try to make it sneaky. What good does it do to show bunt before the pitcher is even set to throw? At least make it look like you're trying.