Leave a comment
November 20, 2017 by marlonpitter
Written by Marlon Pitter
Rivalry Week in college football brings the best (and worst) out of opposing teams and fans as they battle for annual bragging rights that can only be settled on the field once a year. Here at The Nosebleeds, we decided to use this week as a time let out our anger, frustration, and otherwise downright hatred of various teams, athletes, coaches and personalities across all of college and professional sports.
Without further ado, here's how I'll kick off the series this week:
Michigan football
On either side of the Michigan-Ohio State rivalry, there's no bigger game than "The Game." Once you've recovered from your Thanksgiving food coma and your Black Friday shopping high, Saturday afternoon is all about The Game.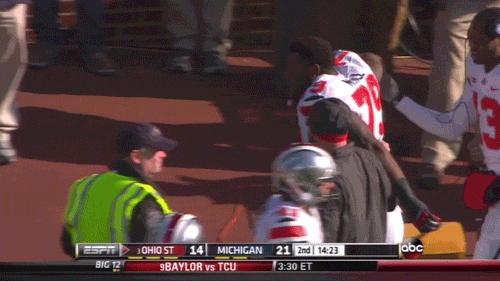 Personally, while I still hate Michigan football with every fiber of my being, the Wolverines haven't beaten the Buckeyes many times this century, helping Ohio State claw at that all-time series record. That said, no matter what the season looks like for each team, it's a one-game season on the fourth Saturday in November.
University of New Hampshire hockey & men's basketball
I wouldn't have considered the University of New Hampshire to make this last until last month when the Wildcats pulled off a home-and-home weekend sweep of UMass Lowell to start the hockey season. Subsequently, their fans went off the deep end about how good they think their club is this year. It's an emotional time for them in coach Dick Umile's final season behind the bench, but New Hampshire (and Hockey East in general) will come back to reality sooner rather than later.
They also do this really stupid thing where they throw a fish on the ice. But hey, tradition or whatever…
Also, as a school that competes with UMass Lowell in both Hockey East and America East, the River Hawks take on the Wildcats in just about every sport, and they'll be one of the conference opponents standing in the way of a first-round home game in the America East tournament for the postseason-eligible men's basketball team. No matter what happens every year from now on, this buzzer beater from Daniel Dion in my junior year is a moment I'll never live down.
Philadelphia Flyers
I'm a Penguins fan, so there's not much that needs to be said about this team. They've been annoying pulling off road wins in Pittsburgh in recent years, and there was the 2012 Eastern Conference quarterfinal series, but other than that, they're just hot garbage.
And then there's this…
Washington Capitals
The Crosby-Ovechkin rivalry has been one of the NHL's marquee matchups for over a decade. Thus, the rivalry between these two teams is one of the fiercest in the league.
I've enjoyed seeing the Penguins eliminate the Capitals from the playoffs in the second round of the last two postseasons en route to back-to-back Stanley Cup titles. Also, when Crosby won his first title in 2009, they also eliminated the Capitals that spring. Unlike the Flyers, though, I'd watch the Penguins play the Capitals 82 times a year if I could.
Notre Dame hockey
UMass Lowell had Notre Dame's number during the four years the Fighting Irish were in Hockey East. Lowell went 9-3-2 against Notre Dame and twice defeated the Irish in the Hockey East Tournament, but as Notre Dame fled to the Big Ten, they took the River Hawks' chance at going to the Frozen Four with them in the NCAA Northeast Regional Final.
Note Dylan Zink's stick being ripped out of his hands allowing Andrew Oglevie to score the game-winning goal in overtime at 1:49:43. It's not the only reason why I hate them, but it's the biggest one.
Aside from that game, Norte Dame hockey just made everything unnecessarily complicated in Hockey East in terms of travel and scheduling. For all 11 remaining schools, I can say on behalf of them, you won't be missed, Fake Hockey East.
David Quinn
Just tell me you don't wanna punch this guy right in his caricature-like chiseled jaw.
With all the talent Boston University men's hockey coach David Quinn brings in, they should be in the Frozen Four every year. Sucks to BU, Quinn.
John Buccigross
ESPN has very few hockey analysts, and unfortunately, John Buccigross is one of them. He, singlehandedly, has turned the niche market of college hockey into his own personal brand with the juvenile misspelling "cawlidge hawkey." This is the last thing college hockey needs. It needs people who care about the sport and the market regardless of personal gain, and that isn't coming from Buccigross.
UMass Amherst hockey (fans)
Nothing brings UMass Lowell fans together more than hating the flagship. UMass Amherst fans' fragile superiority complex, coupled with an underwhelming, perennially basement-dwelling hockey team makes them easy to hate. The Minutemen have only had one 20-win season and one NCAA tournament appearance in program history, while Lowell has won 20 games in all of Norm Bazin's first six seasons behind the bench, won three Hockey East tournament titles, captured two regular season titles, made the NCAA tournament five times and gone to the Frozen Four once.
There's a lot of talk about the whole "New Mass" culture for their hockey under new head coach Greg Carvel, but I'll believe it when I see it. As far as poster boy and fourth overall draft pick Cale Makar goes, I don't know why he would have committed to the Minutemen, but I'll guess it was for the most ice time so he can be a one-and-done.
Oh, and "thanks for [Kevin] Boyle."